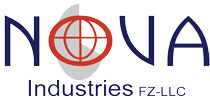 Location: Ras Al Khaimah - U.A.E.
Website: www.novaind.com
Our branch in UAE is focusing on steel industry and fabrication; we have constructed two plants in Ras Al-Khaimah; one for steel pipe manufacturing and the other for oil storage tanks and equipment. The Steel structures civil works & machinery foundations, machinery selection & installation plus all electro-mechanical works were carried out by our staff.
Nova Industries Steel Pipe Manufacture


Nova Industries Steel Pipe Manufacturing was invested and established by World Windows Group of Companies specializing in four production lines
1. 16 mm to 63 mm ERW pipe rolling line, thickness betweeen 0.7mm up to 3.2 mm
2. 50mm to 168mm ERW pipe rolling line, thickness between 2mm up to 6.4mm
3. Slitting and cut to length line, capacity 25 ton HRC coils width 1800mm thickness up to 6.4mm
4. Cold reducing mill, width of coil 500 mm, thickness 3mm, this machine can reduce thickness of the coil down to 25%of the original thickness

The factory which is going to start production in January 2012 is located in Ras Al-Khaimah free zone has an area of 37000m2, and a covered area of 6000m2.